Main Library
09:00 - 22:00
Library (Taipa Campus)
09:00 - 20:00
Lam Kan Special Collection
Open by Appointment
LIBRARY BOOK EXHIBITION 13
Item request has been placed!
×
Item request cannot be made.
×

Processing Request
Book Exhibition XIII
"It Was The Best of Times, It Was The Worst Of Times" - 150th Anniversary of the Death of Greatest Writer Charles Dickens
09/06/2020 - 08/10/2020
Library, 2nd Floor, Wui Chi Building, MPI
It was the best of times,
it was the worst of times,
it was the age of wisdom,
it was the age of foolishness,
it was the epoch of belief,
it was the epoch of incredulity,
it was the season of Light,
it was the season of Darkness,
it was the spring of hope,
it was the winter of despair,
You should recognize the opening paragraph from A Tale of Two Cities by the immortal Charles Dickens. Charles Dickens (in full Charles John Huffam Dickens) is considered to be the greatest novelist of 19th century English literature and one of the most important writers of the Victorian Era.
Charles Dickens (1812-1870) was born in Landport, Portsmouth, on February 7, 1812. Charles was the second in a family of eight children. His father John Dickens (1786–1851) was a clerk in the Navy Pay Office. The Dickens family moved to London in 1814 and two years later to Chatham, Kent, where Charles spent early years of his childhood. Due to the financial difficulties they moved back to London in 1822, where they settled in Camden Town, a poor neighborhood of London. In 1824 the family reached bottom. Charles, the eldest son, had been withdrawn from school and was sent to work in Warren's blacking factory and endured appalling conditions as well as loneliness and despair. After three years he was returned to school, but the experience was never forgotten and became fictionalised in two of his better-known novels 'David Copperfield' and 'Great Expectations'.
Like many others, Dickens began his literary career as a journalist. In 1833, he began submitting sketches to various magazines and newspapers under the pseudonym "Boz." In 1836, his clippings were published in his first book 'Sketches by Boz'. In April 1836, he married Catherine Hogarth who edited 'Sketches by Boz'. Within the same month came the publication of the highly successful 'The Pickwick Papers', and from that point on there was no looking back for Dickens. He published 15 such beloved classic novels as Oliver Twist, A Christmas Carol, Nicholas Nickleby, Bleak House, A Tale of Two Cities and Great Expectations.
Dickens died at age 58 on June 9, 1870, at Gad's Hill Place, his country home in Kent, England. He was buried in Poet's Corner at Westminster Abbey (figure 1), and bestowed with the epitaph: "He was a sympathiser with the poor, the suffering, and the oppressed; and by his death, one of England's greatest writers is lost to the world." At the time of his death, his final novel, 'The Mystery of Edwin Drood' was unfinished.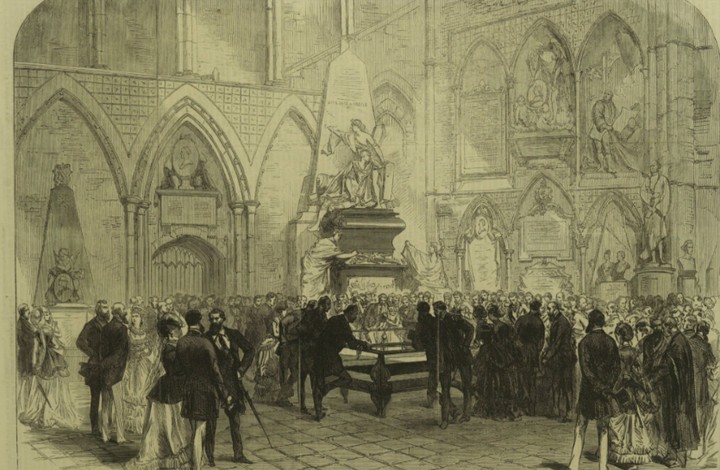 Charles Dickens, a great English writer after Shakespeare, is the most achieved representative of the English critical realism literature of the 19th century. His works vividly reproduce the social conditions of Victorian England. Dickens's work transcends his time, language and culture. He remains a massive contemporary influence throughout the world and his writings continue to inspire film, TV, art, literature, artists and academia. Over a hundred years later Dickens's works are still being filmed for cinema and TV and every one of his 15 novels has been filmed at least twice. Charles Dickens public readings were hugely popular and are still widely read today. His literary works are not only proclaimed in Britain until today, but also are the most precious heritage of people who love reading in the world. This book exhibition commemorates the 150th anniversary of the novelist's passing in 1870.
Further Reading
Try searching the following Library subscribed databases with the keyword "Charles Dickens". You will discover more related materials, such as archived News, images, audiobooks and more...
And much more free resources are available online...